---
---
I've been asked so many times in my career if I am truly happy with my life, with the paths that I've chosen. If I could turn back the clock and do everything over would I? In these last few weeks, mocking Christy Matthews that is, I have really thought long and hard about that question. People talk about the American Dream and what it means to them. To Christy Matthews I'm guessing it means the end of her life. For me? I've always dreamed of being perfect. Now have I always been perfect? Maybe, maybe not, it all depends on who you ask. If you ask my family? Oh no, I would be the farthest thing from perfect, that honor belongs to my brother Marcus. If you ask my first wife Angie? Nope not to her either, that honor goes to my son who I've been told is named Alex. If you ask my second wife Nora? HA! After what I did to her she's probably got psychological damage and wouldn't recognize perfection if it left a mark on her forehead. Does Hannah find me to be perfect? Nope, not really, she loves me for my imperfections. BUT, if you were to ask me, oh yes. I'm as perfect as God could have created.
So, through all of the trials and tribulations of my life if asked again right now at this very second: "If I could, would I change who I became in order to save those that I may have hurt in the past?" I would answer that question in a heart beat: "NO!" Because the truth is, I LOVE myself. I don't resent what I've become simply because others do, I am my own judge. Besides, without my past actions whose to say that my life wouldn't be so perfect right now? Someone once said that you have to walk through hell before you can reach heaven, well I'm in heaven right now baby. In my life I am surrounded by possessions that remind me of how perfect my life is and all of it's successes. Others like to look at things from a negative perspective like Christy Matthews. Instead of looking around and smelling the roses, she's trying to cut her wrists with the thorns of said roses. I don't see failure in everything around me like Christy does, and that's because I don't fail.
---
---
Friday - April 15th, 2011
* The scene opens up showing Shawn Winters' house in Los Angeles, California. Shawn is sitting on his patio outside with a margarita in his hand watching as there are numerous old people wondering around his yard. There are three white vans parked outside in his drive way with a few people in white jump suits seemingly standing guard as well as a police officer who is patrolling the area. Shawn takes a sip of his margarita as Hannah walks out and joins him with a margarita of her own in one hand and an opened box in the other. *
Hannah – I swear my father needs to stop sending me these gifts. I have like six sets of anal beads now.
Shawn – Ugh...sadly I think those presents he's been sending you are for me.
Hannah – Oh well in that case it'd be rude not to use them wouldn't it?
Shawn – You're really quite funny did you know that?
Hannah – So I've been told. So do you honestly think this is going to work?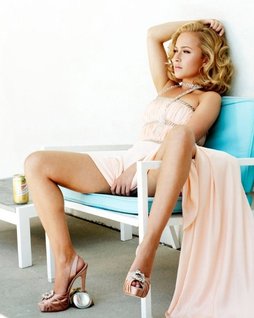 Shawn – Why wouldn't it? I need 8 hours more of community service and I want to get it all done today so...
Hannah – You were supposed to go help the elderly. Talk to them, play chess with them, ya know...stuff that you normally wouldn't be doing like drinking.
Shawn – Hey, I'm helping the elderly alright. They're outside aren't they?
Hannah – Shawn, they're alzheimer's patients, I doubt this is their idea of fun.
Shawn – Are you kidding me? They're having a great time! I mean look at Gertrude over there! She's got a giant smile on her face! She's having the time of her life.
Hannah – Shawn, you know that this is just morally wrong.
Shawn – Morally wrong or brilliantly right? (smirks) Listen, look at this from my perspective. Would I really want to sit in a room hearing some boring ass story about a grandson or granddaughter who they're so proud of and hasn't visited them in so long over and over again because they've forgotten they've been telling me the same fucking story for the past 4 hours?!
Hannah – Shawn trust me, I get your point but this just doesn't seem right. I mean the only reason you set this up was to get in your full 8 hours without having to do a whole hell of a lot.
Shawn – I had to hide the eggs didn't I?
Hannah – That doesn't count as community service!
Shawn – It does when you have alzheimer's patients looking for them! Come to think of it, they hid the eggs themselves yesterday haha.
Hannah – This Easter egg hunt has to be one of the worst things you've done...
Shawn – Seriously? I've done five worse things this week. Just sit back, drink your margarita and enjoy the magic that is alzheimer's.
Hannah – What if one of them gets hurt? I mean seriously, it might not be safe for them out here.
Shawn – Where are they going to go? The entire yard is gated, plus they have nurses or doctors or whatever they are here to make sure that nothing happens to them. All they're doing is looking for Easter eggs. Come on Hannah, it's the holiday season, get in the mood!
Hannah – It's Easter Shawn, it's not Christmas. Plus, it's not even Easter yet!
Shawn – Well you don't need to be all Jewish about it.
Hannah – SHAWN!
Shawn – Oh don't get so upset about it, it's not like any of them will remember I said it anyways.
* Right then one of the old men walks up to Shawn with an empty basket. *
Old Man – Where am I? This isn't the strip club.
Shawn – Hahaha, you're at my house.
Old Man – Who are you?
Shawn – I'm Shawn Winters, it's alright to be in shock of my presence.
Old Man – I...I don't understand.
Shawn – Hey, if you find the most Easter eggs in the yard you win a prize. Maybe if you get enough eggs the prize will be your memory.
Old Man – Oh that sounds nice.
* Shawn starts laughing as the old man walks away. *
Hannah – You are just the worst type of person.
Shawn – Hey, you knew that coming into this marriage baby and you're still here because of it. (smirks)
Hannah – (laughs) So is that why your other marriages failed because they didn't know what they were getting into?
Shawn – That and they made the horrible decision in getting pregnant.
Hannah – OH MY GOD!
Shawn – LOVE YOU!!!
Hannah – So you're saying if I get pregnant you'll just divorce me then?
Shawn – If you can find a way to get pregnant without getting fat for 8 months than maybe I'll think about sticking around, but you'll have to dial down the crazy. I've heard pregnant girls can get pretty crazy around the 6th month.
* Hannah punches Shawn in the arm. *
Hannah – You asshole!
Shawn – (laughing) What did I say?!
Hannah – I should divorce you now just for making that comment.
Shawn – But we love each other don't we?
Hannah – Sadly I do...but for punishment we're using those beads tonight.
Shawn – And then you woke up!
* Shawn and Hannah look on as they see an old woman giving an old man one of the Easter eggs. She hands it to him and he puts it in his basket only to stand in one place. Shawn shakes his head in laughter. *
Shawn – Hank!...Hank!
* The old man turns around and takes a few steps over to Shawn before stopping. *
Shawn – Hank...question, if I were to tell you that if you found more Easter eggs than anyone else today that your wife would come and visit you tomorrow would you be interested?
Hank – Well...I have one. I forget where it came from though.
Shawn – Well then you're in the lead buddy, get out there and get some more.
Hank – Alright...
* Hank turns around and walks back out towards the yard only to give his Easter egg to somebody else. Shawn starts laughing. *
Shawn – That guy Hank, he's good shit. It's funny because he doesn't remember that his wife has been dead for 5 years.
Hannah – How do you know that?
Shawn – One of the orderlies told me some things about each "competitor" today haha.
Hannah – And you're telling him his dead wife is going to come back and visit him if he wins?
Shawn – You've got to motivate these people Hannah!
Hannah – You realize that this motivation is falling on forgotten ears. (smiles)
Shawn – Now you're getting it!
* Shawn gives Hannah a high five for the joke. *
Shawn – I've never loved you more than I do right now haha.
Hannah – My slow decent into laughing at the expense of others has begun but at least my husband loves me more for it.
Shawn – Way to look at the bright side babe. (smirks)
* An old woman walks up to Shawn and Hannah. *
Old Woman – I forgot where I parked my car.
Shawn – You didn't drive here.
Old Woman – But I just came back from the market with these eggs.
Shawn – You bought 3 eggs at the store?
Old Woman – Where did the other 9 go?
Shawn – You better go find them, I'm taking a wild guess and saying a lot of them are in the grass.
Old Woman – But I was going to make an omelet.
Shawn – Sure you were....sure you were.
* The old woman walks away with her basket of eggs in her arm. Hannah then turns to Shawn. *
Hannah – I'm going to go inside and grab another margarita, would you like me to top yours off?
Shawn – If you would.
* Hannah leans over and kisses Shawn as she grabs his glass and walks inside. Moments later the phone rings. *
Shawn – Babe, can you get that!!!
* The phone stops ringing. *
Hannah – SHAWN!!! YOU MIGHT WANNA GET IN HERE!!!
* Shawn grunts as he looks over his shoulder as he see's Hannah with a confused look on her face as she holds the phone to her ear. *
Hannah – SHAWN! NOW!!!
* Shawn pulls himself up out of his chair and walks into his house. He walks over to Hannah. *
Shawn – Who the fuck is it?
Hannah – You'll want to hear this.
* Hannah pushes the speaker phone button on the phone before dropping it. *
Shawn – Hello?
Voice Modulator – Shawn Winters, you haven't forgotten about me have you? I'm the person who sent you that heart felt letter weeks ago. Just thought I'd check in on my investment!
* Shawn quickly hangs up the phone. *
Hannah – WHAT ARE YOU DOING?!
Shawn – Do you think that I'm going to talk to some cyborg?!
Hannah – Shawn that was probably a voice modulator!
Shawn – I knew that...
* Right then a phone starts to ring again. *
Shawn – Hannah go grab the police officer outside.
Hannah – Alright.
* Hannah runs out the back door as Shawn clicks the speaker phone button he doesn't say a word. *
Voice Modulator – It's not too smart to piss off the person that's threatening your life Shawn.
Shawn – I hope you know that I have policemen here tracing this call right now!
Voice Modulator – Don't insult my intelligence Shawn. I know that the Police Department didn't take my threat seriously. I also know that they stopped trying to find out who I was days after I sent you the letter. That officer there is simply there to make you feel better. He's probably no more than a rental cop.
Shawn – Who the fuck are you?!
Voice Modulator – Oh now that wouldn't be too fun now would it. However we could play a little game. I'll answer a question from you if you answer one from me. Would you like to go first?
Shawn – Who are you?!
Voice Modulator – Oh you probably don't even remember me considering all the lives that you've ruined over your life. Now my turn.
Shawn – You didn't answer my question!!
Voice Modulator – IT'S MY TURN!!! SHAWN! Do you find suicide funny?!
Shawn – What?!
Voice Modulator – Do you find suicide funny?! I've been watching you recently making fun of Christy Matthews in her suicide attempt. Do you find it funny?!
Shawn – What do you care?!
Voice Modulator – You're not playing by the rules Shawn! I ask you a question and you answer before you ask me another question. Shawn! Do you find suicide to be funny? Because the last time I checked somebodies death is no laughing matter!
Shawn – Listen here you fuck! I'm not playing any type of game so you can go fuck yourself!
Voice Modulator – Oh no Shawn, YOU can go fuck yourself! You see I've had a lot of time to think this through and you know what? The only thing funny about all of this will be when I'm standing over your dead blood covered body!
* Shawn then gets a little smile to come across his face. *
Shawn – Ya know what, I've got to give you a bit of a clap here.
* Shawn mockingly claps his hands together. *
Shawn – You had me going there for a second Christy. You probably think that you're pretty clever trying to turn this whole thing against me, well go ahead and enjoy the little success' in your life because you clearly haven't had any big ones.
* There is silence followed by a beeping noise as the person hung up the phone. Right then Hannah comes in with the police officer behind her. *
Shawn – You seriously are a piece of work aren't you? Get some more cops out here you douche bag! I just got a phone call from somebody threatening to kill me so take that to your boss and tell him to do his job!
* The police officer goes back outside with his phone. Hannah runs up to Shawn.